Asia/During-Jamboree
During-Jamboree
Welcoming Message
Welcome to the iGEM 2013 Asia Regional Jamboree! The Jamboree will be full of exciting presentations, stimulating conversations, well-deserved awards, and most of all, a lot of fun. The following information will guide you through the whole Regional Jamboree event from what to expect at Friday night practice all the way to the Award Ceremony on Sunday. Please read through this whole guide! It contains useful instructions and information that will ensure your Jamboree experience will go as smoothly as possible. And as a special note to team leaders, you will have some extra responsibilities so please make sure you are aware of what you are expected to do. All involved locations on the CUHK campus – the Yasumoto International Academic Park, Ho Sin Hang Hall and other event locations, can be found in the Map of the CUHK, Map of YIA (G/F) and Map of YIA (2/F) in your registration packet.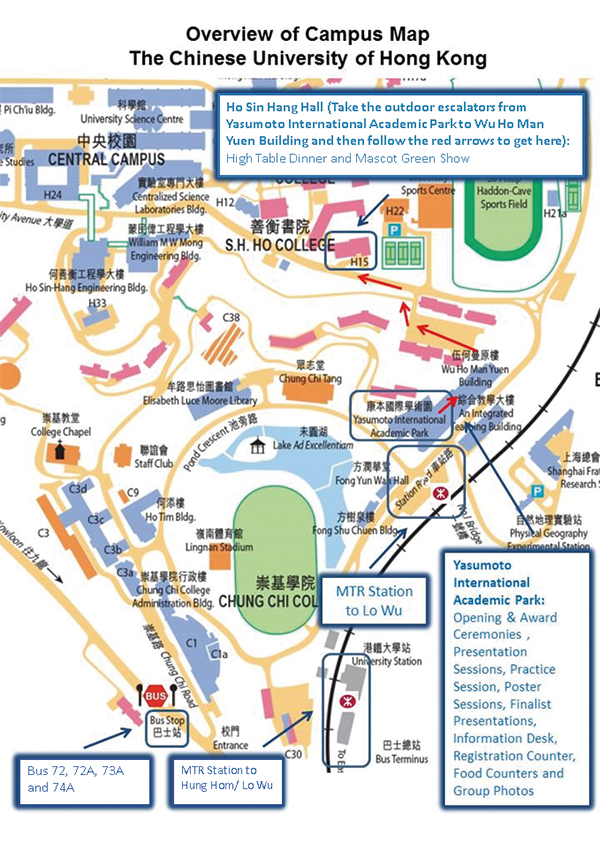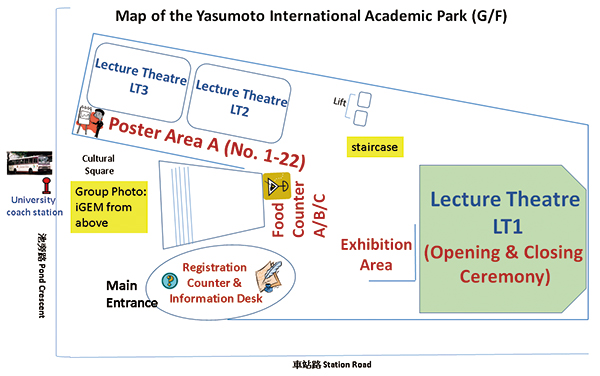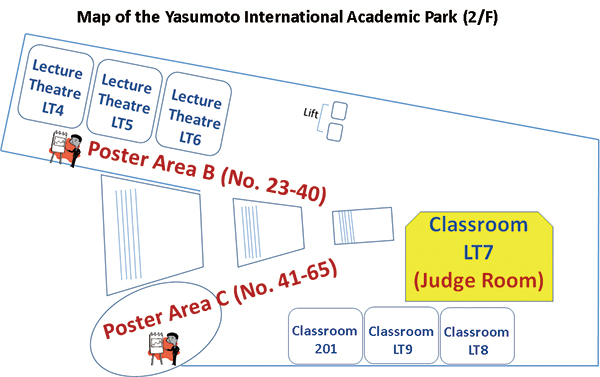 iGEM Around CUHK
The entire iGEM Asia Regional Jamboree will be held at the Chinese University of Hong Kong's Shatin main campus. The poster sessions and presentations will be held inside the Yasumoto International Academic Park. Check your team bags for the information of where you should set up your posters and pick up your lunch.
Yasumoto International Academic Park (Front Yard)
Yasumoto International Academic Park (G/F)
Questions and Information
If you have a question or need help at any point during the Regional Jamboree, you can visit the information desk on the G/F of the Yasumoto International Academic Park, or look for one of the iGEM helpers on site. The iGEM Asia handbook can be found here.
Jamboree Schedule and Campus Map
Check it out here.
Jamboree Handbook
Check it out here.
Check-In and On-Site Registration
Teams can check-in on Friday (October 5th, 4-9pm) and on Saturday (October 6th, 8-9am). The jamboree will begin at 9am until 9:20am on Saturday (October 6th). The registration counter is located on the G/F of the Yasumoto International Academic Park. During registration, team leaders will pick up their team bags containing team member badges, participation certificates, registration packets, lunch tickets, and other important and useful information. Note that each team leader will be responsible for picking up their team bag. In order words, each member of a team DOES NOT have to stand in line for registration.
Important: To pick up your team bag, each person will be required to turn in the general release form during the registration. The release forms are absolutely necessary. Registration personnel will check each release form for each team member. Badges of each team will be held at the registration counter until the all general release forms from each team member have been turned in.
Badges
You will receive your name badge as part of your team bag, as long as you have submitted your general release form. Please wear your badge at all times during the Regional Jamboree and make sure it is clearly visible. Badges will be necessary for entrance into presentation rooms, for access to food, buffet dinner and for the iGEM social event. If you do not have a badge, you must register to obtain one.
General Release Forms
The iGEM 2013 Asia Regional Jamboree will be a multimedia event. In addition to the team presentation videos that will be uploaded online, we will upload photos and videos of the entire event so others can get an idea of what iGEM and the Regional Jamboree is like. In order to comply with the law, all participants attending the Regional Jamboree must print, fill out, and bring a General Release Form with them to the Regional Jamboree.
Note: Team leaders must have a filled-out general release form for each member of your team registered for the Jamboree before you can pick up your team members' badges and team bag. There will be some spare copies available at the registration counter for you to fill out. If you have any questions, please feel free to ask an iGEM staff member.
Team Leaders
Team leaders have certain responsibilities. Each team leader (or a designated representative) will be responsible for gathering all team member general release forms and handing them in at the registration counter in order to obtain your team bag. Team leaders have to make sure that individual team members receive the materials in the bag. Right after the Award Ceremony on Sunday, team leaders will have to pick up their team medals and award certificates at the Registration Counter.
Team Bags
Your team bag will contain the following items:
Team members' badge
Map of iGEM events
Team members' certificate
Jamboree Handbook
Program & Schedule
Team-Specific Information
Lunch Tickets
iGEM 2013 Social Event Info
Internet Connection Instructions
Sponsor Information
Other Information
Team Spirit
During the Regional Jamboree, you will represent your teams, universities and countries. It is definitely a great time for you all to show off! Designing your own team T-shirts and wearing them is always a good idea. They can absolutely make for a particularly nice Photos from Above photograph! Wear your school colors, teams' name, or give a nod to your team sponsors. Finding new ways to showcase your team spirit is very much encouraged as well.
Friday Night Practice
Not only can you practise your presentations, you can also get to know your fellow iGEM members. Teams will be allowed to practise on Friday night (October 4th, 6-10pm) at the CUHK. Available timeslot can be viewed at here.
Please be noted that we cannot match the practice rooms with your Saturday presentation rooms. Also, there will NOT be any technical staff on site to help with audio/visual equipment. Please leave all presentation rooms in the condition that you found them in the first place.
Snacks and drinks will be provided that night on a first-come-first-serve basis.
Opening Ceremony
The Opening Ceremony on Saturday will officially kick off the iGEM 2013 Asia Regional Jamboree! The opening ceremony will be held inside the Tasumoto International Academic Park at 9:00am on October 5th. Before the Opening Ceremony, breakfast will be provided at 8:00am on the G/F of the Yasumoto International Academic Park. Be sure to attend as we will update you on any new changes related to the Regional Jamboree.
Message Boards
Trying to find someone at the Regional Jamboree? Want to leave some words of praise for your fellow iGEMers? Message boards will be around the presentation theatres for you to leave a note for the others. Do check the message boards throughout the Jamboree. There may be some funny, inspirational or important messages waiting for you!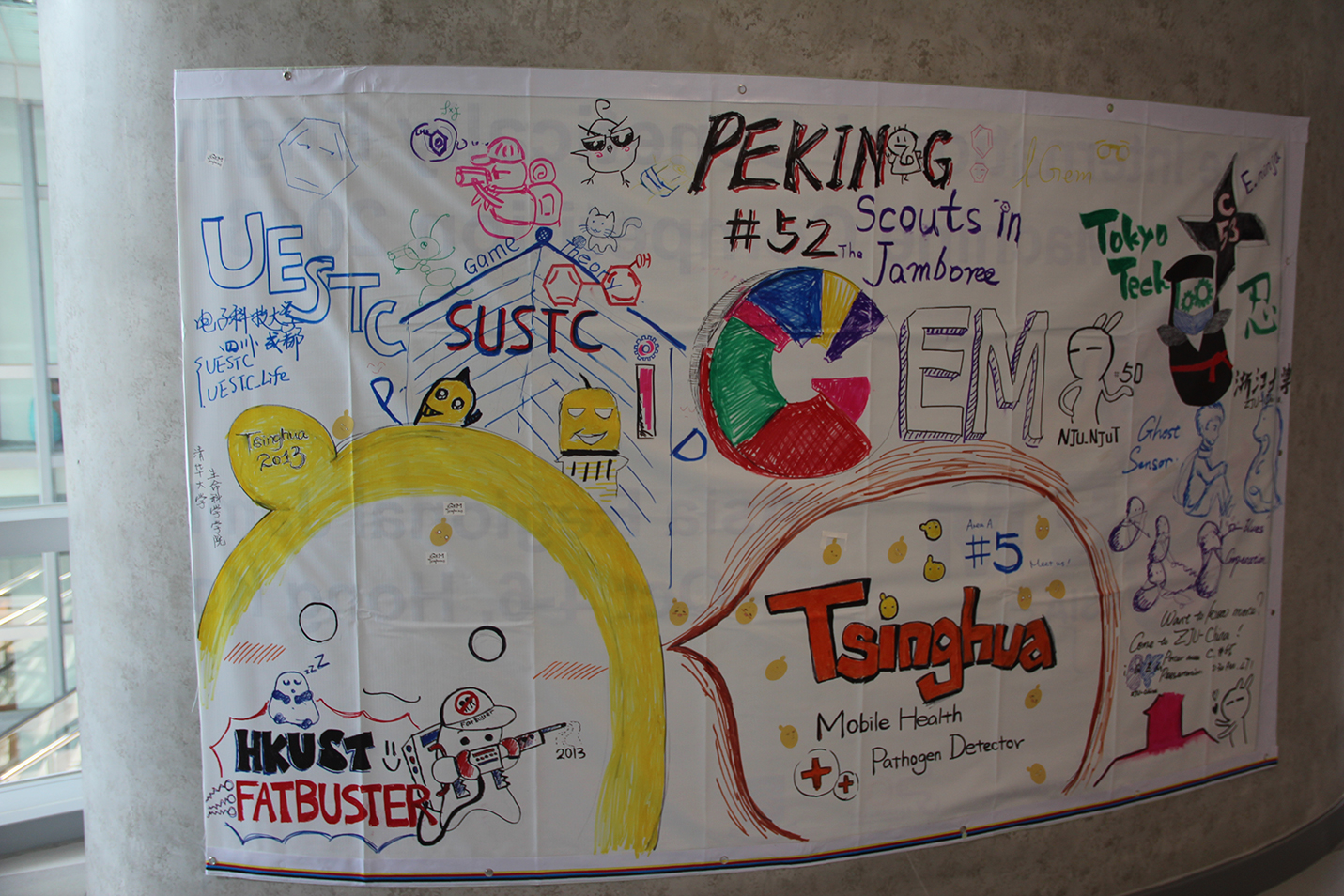 Food
Food will be provided throughout the Regional Jamboree. There will be meal counters on the G/F of the Yasumoto International Academic Park. Your team bag will contain lunch tickets, which will be used to pick up your lunch. Badges must be (visibly) worn when food is collected. In order to spread out the crowd and cut down the waiting time, teams will be pre-assigned with a meal counters. Please do pick up your lunch from your pre-assigned counters.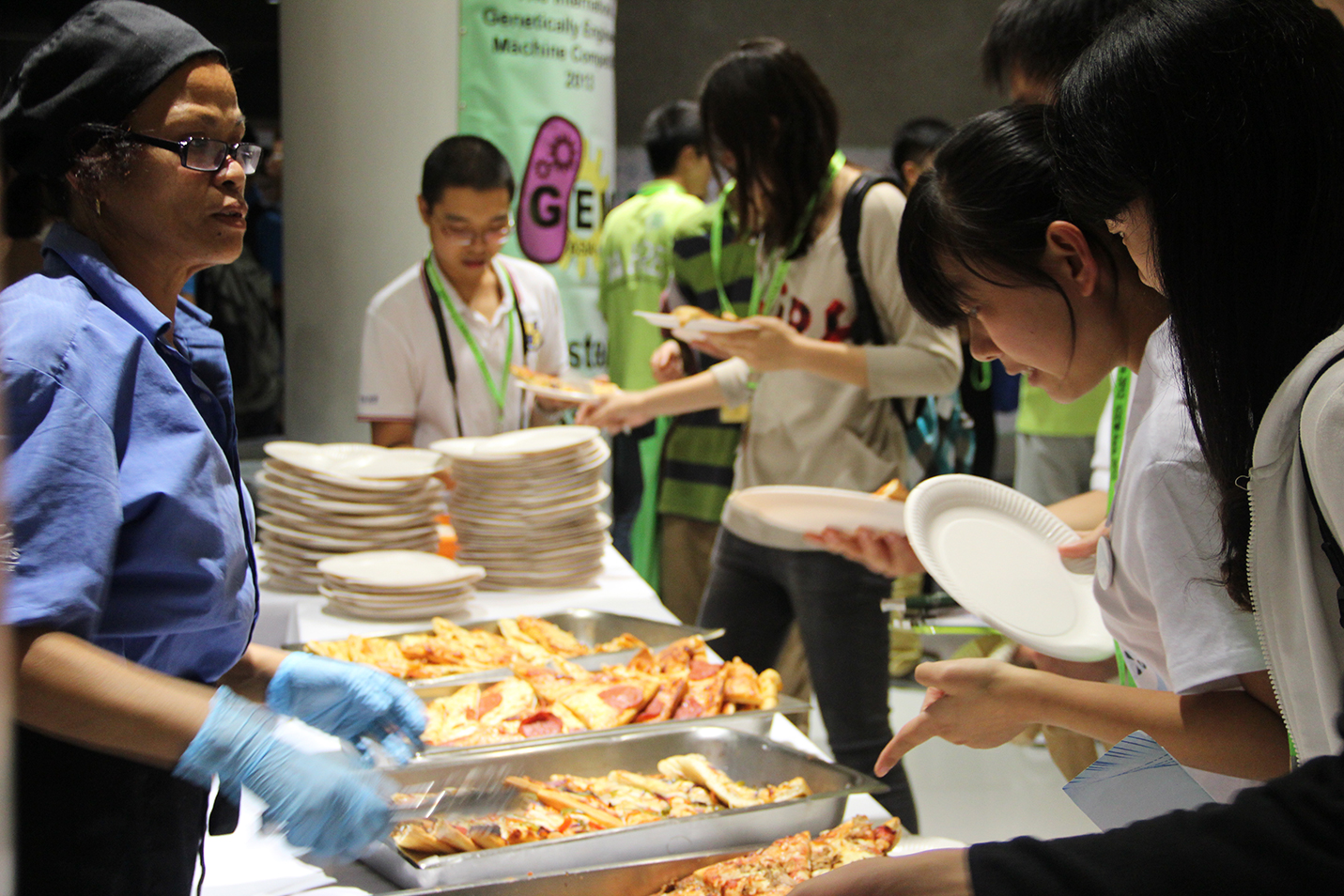 Posters
Each team is required to present a poster during the Poster Session on Saturday, which will begin at 5:30pm on the G/F and 2/F of the Yasumoto International Academic Park. All poster locations will be randomly pre-assigned according to each track. Please check here (Handbook) for your team's specific poster number and location. The poster must be equal to or smaller than 4ft (width) x 6 ft (height) but the minimum size is 96cm (width) x 137cm (height). Each team can only put up ONE poster onto their assigned poster stands. Velcro tape will be provided on site and are to be affixed to the back of each poster. Please ONLY use the velcro tape provided. DO NOT use tape or push pins! Teams may set up their posters during three Poster Set-up times on the G/F and 2/F of the Yasumoto International Academic Park, namely 5:30-9:30pm on Fri, 8-9am on Sat and 11-11:30pm on Sat. Please have your posters up as early as possible, because poster judges will be roaming around on Saturday. Posters must be removed by Sunday 12.45pm. Any remaining posters will NOT be reserved.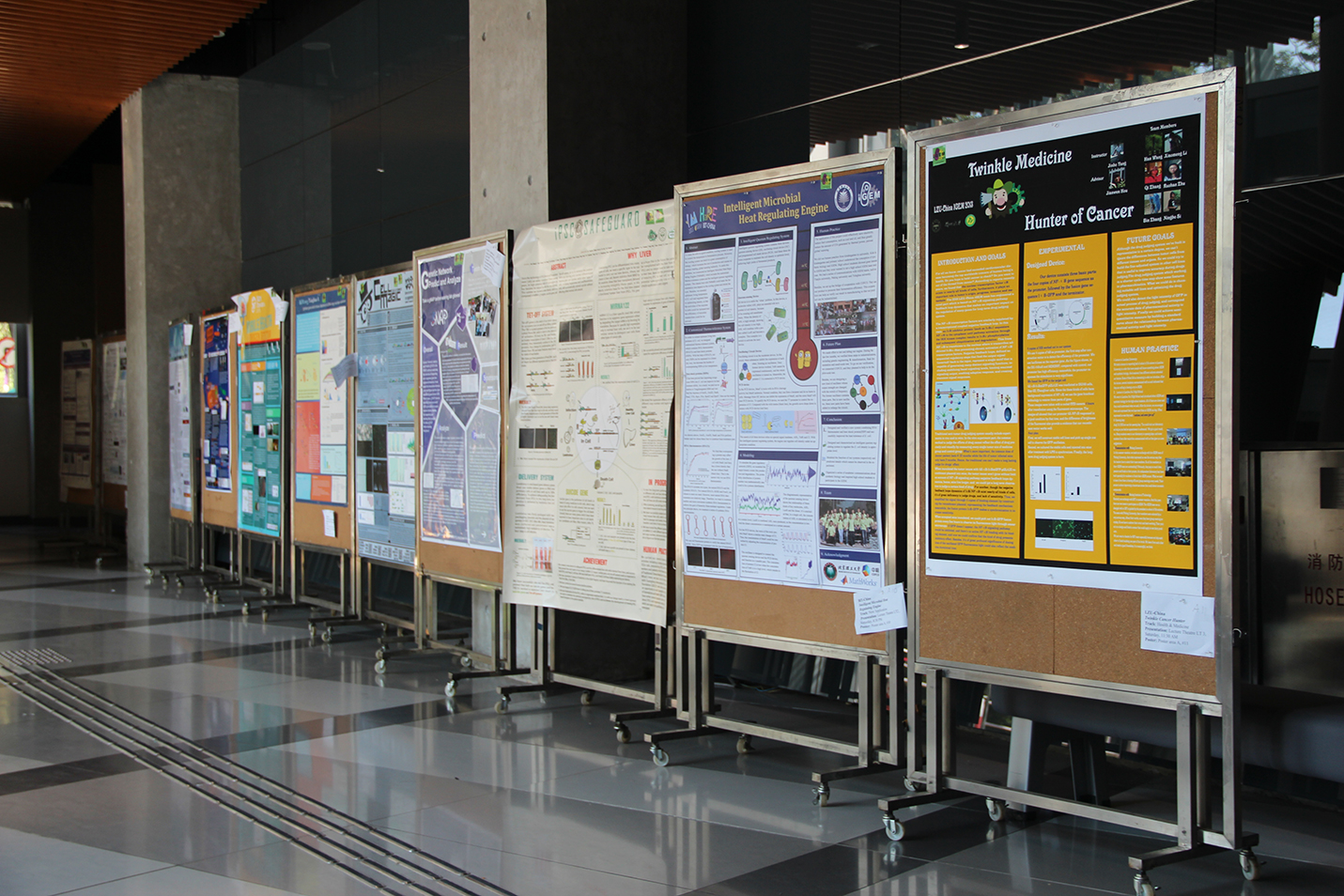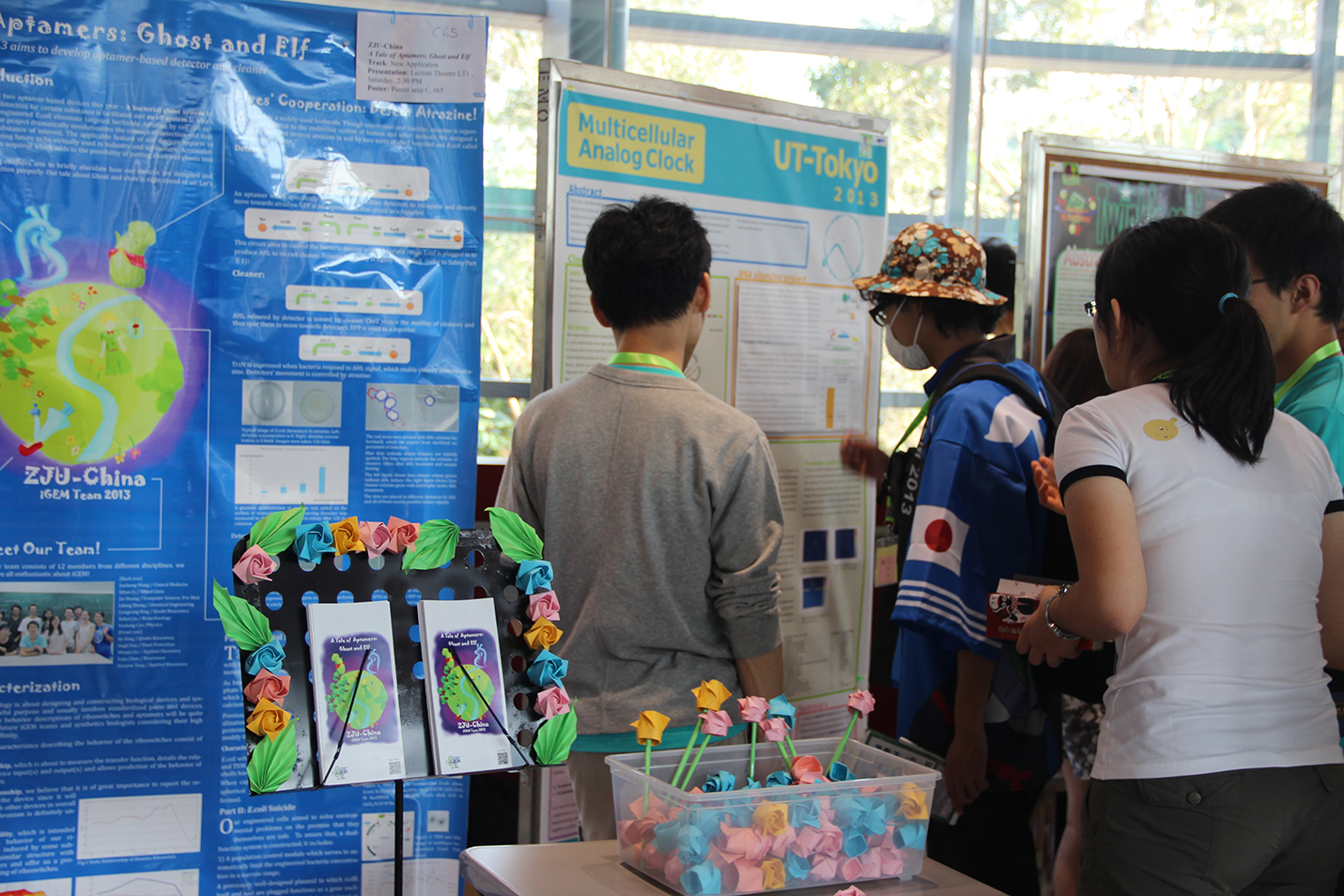 Presentations
The CUHK offers a pleasant atmosphere for your presentations. There are a total of seven presentation rooms located on the G/F and 2/F of the Yasumoto International Academic Park. Each presentation room accommodates approximately 153-582 participants and is equipped with a projection screen and overhead projector, microphones and speakers. Presentations are held in Lecture Theaters 1, 2, 3, 4, 5 and 6. They will be separated by track. Teams' scheduled presentation time, slot, sessions, and rooms will be randomly assigned within the chosen track. Please check here for information about when and where your team will have to present.
There are four presentation sessions in which there are three to two timeslots in each LT. Presentation within the same track will be managed to be grouped together. If you are attending the presentations, please stay for the whole presentation time and only leave the room during the scheduled breaks. Each team has 20-minute presentation time, 5-minute Q&A time and another 5 minutes for team-switching.
Please bring the necessary equipment for your presentation such as your laptop, cables, adaptors and power supply. Such these items will not be provided on-site.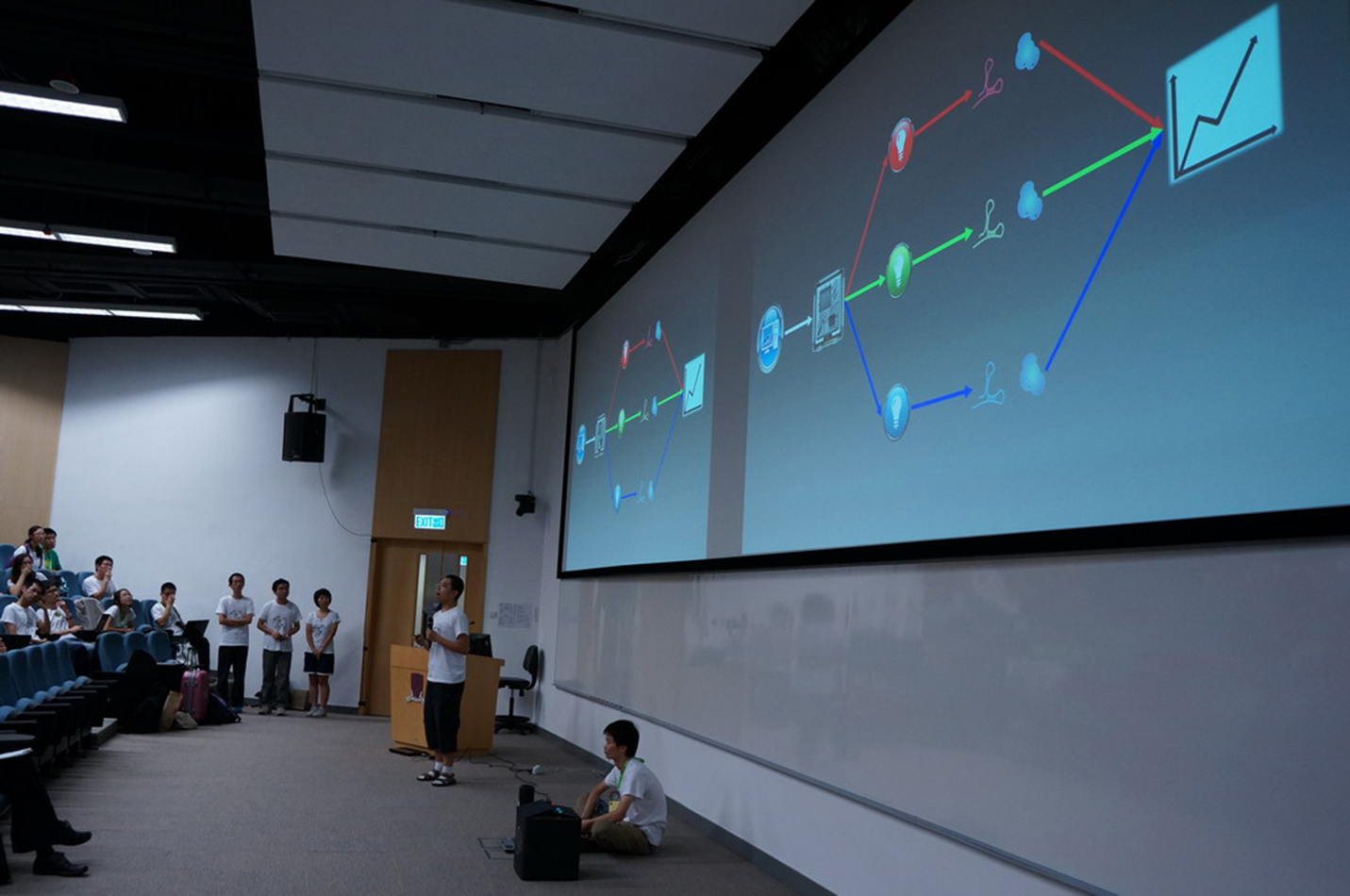 Document Collection
In an effort to capture all of the hard work that teams have put into their iGEM projects, we ask that each team to give us a copy of your presentation and a copy of your poster. Submission instructions are written as follow:
| | |
| --- | --- |
| | Save your presentation and poster as a high-resolution pdf file in advance. |
| | Fifteen minutes before the start of each session (9:15-9:30am, 11:15-11:30am, 1:45-2:00pm and 3:45-4:00pm on Saturday), there will be an iGEM helper at the front desk of each lecture theatre. |
| | Bring your laptops or USBs with the files to the iGEM helpers in the front desk, who will transfer your presentation and poster files to our official saving devices. |
Social Event- Mascot Green Show
On Saturday night after the presentation sessions, we will host the iGEM 2013 Asia Regional Jamboree Buffet dinner and Social Event in Ho Sin Hang Hall, S.H. Ho College from 8:30pm to 10:30pm. The Social event will be a Mascot Green Show. After a full day of presentations, the Asia Regional Jamboree Social Event will be a welcome change, so we highly encourage all iGEM participants to attend and remember to bring your mascot costumes with the use of any environmentally-friendly materials! Relax and have fun!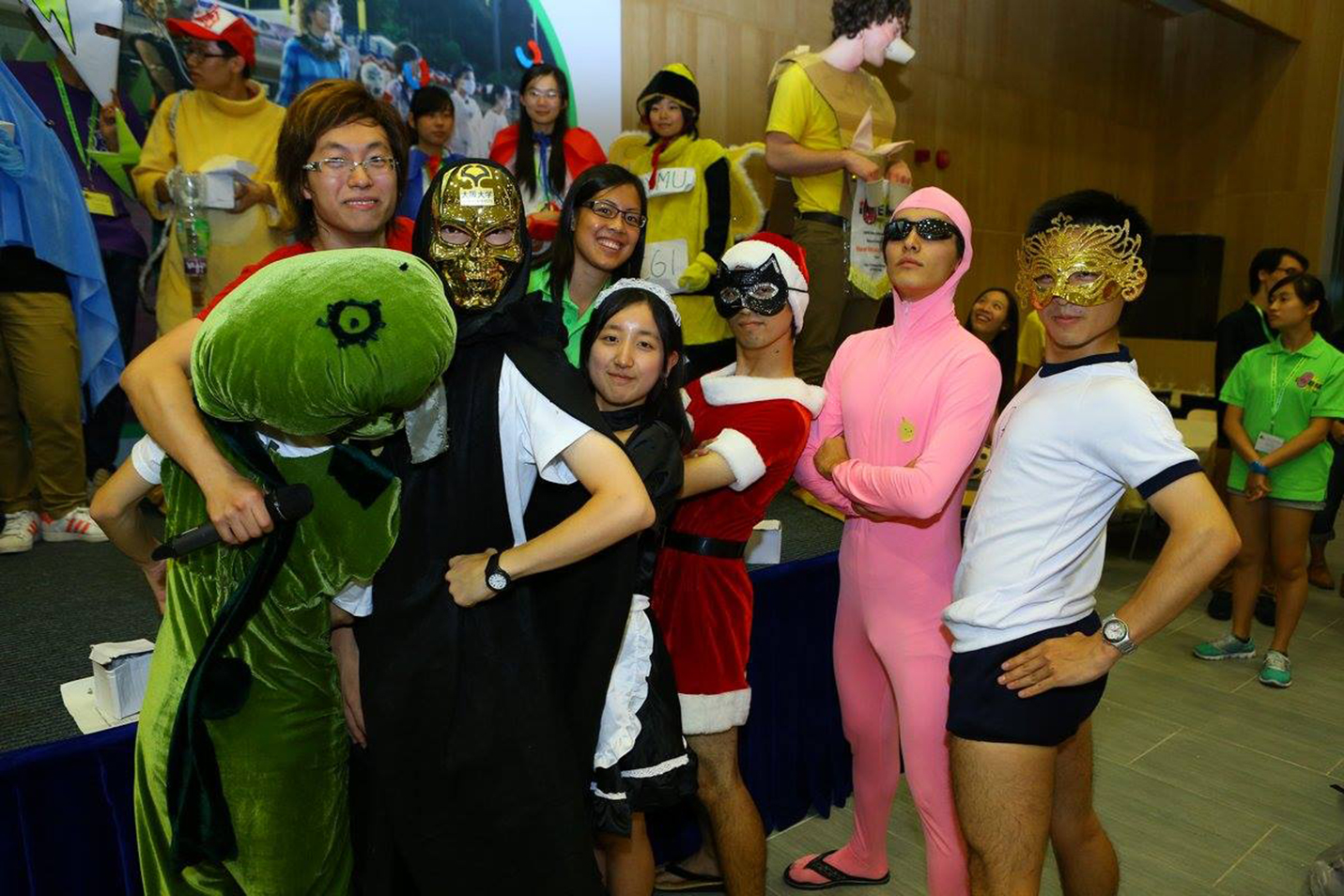 Top 3 Finalist Presentations
The top three regional finalists will be announced during the Opening Remarks at 9:00am on Sunday in LT 1. The finalists will then be asked to give their presentations to all judges and teams. All teams should be prepared to present in LT 1 and bring the necessary materials such as your laptop, cables, adaptors and power supply with your teams.
Photos from Above
On Sunday, after lunch, we will take the iGEM 2013 Asia Regional Jamboree from above group photo! The photos will be taken at the Yasumoto International Academic Park. Make sure to wear your iGEM team T-shirt if you have one!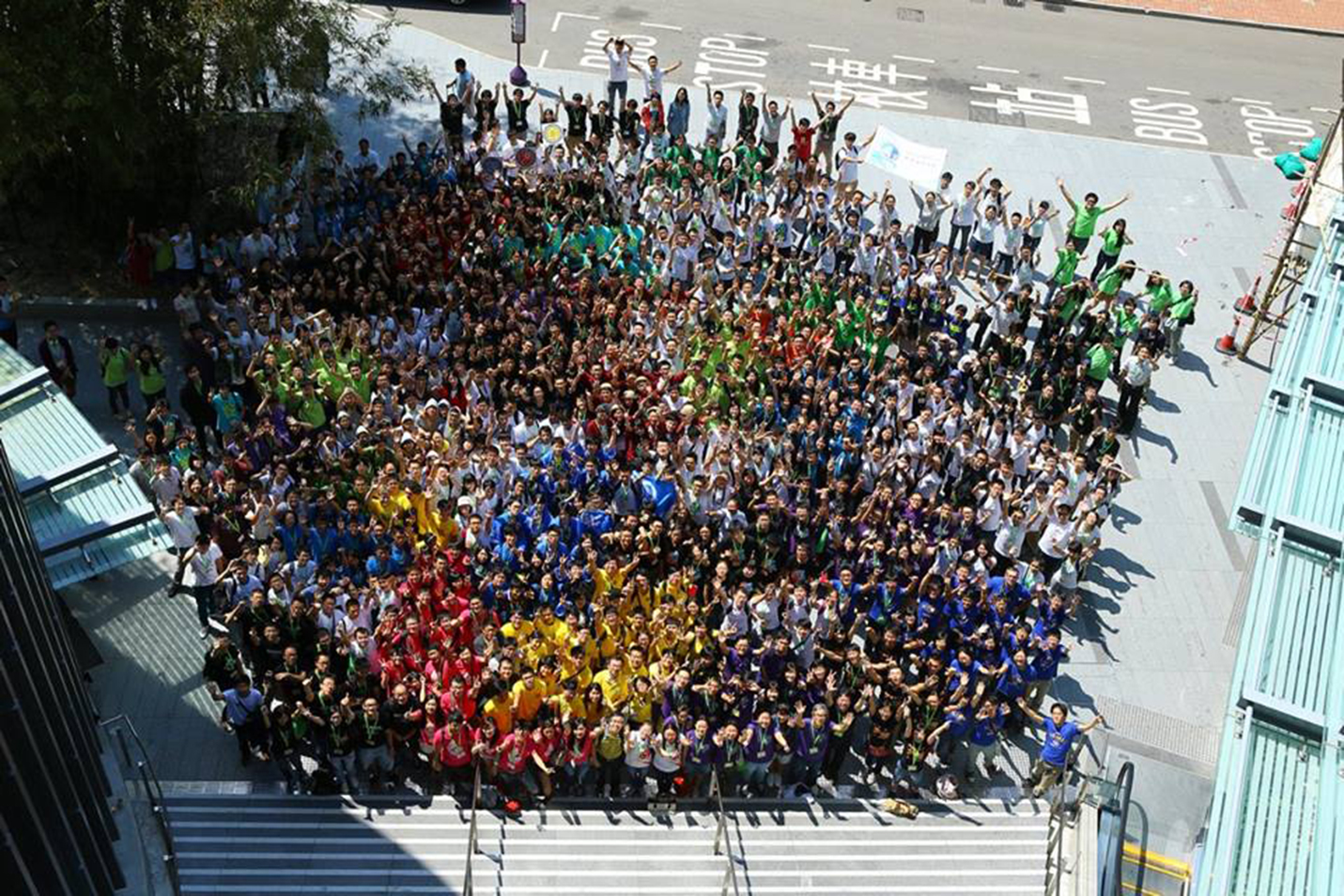 Award Ceremony
The Award Ceremony will be held on Sunday afternoon in the Yasumoto International Academic Park. Judges will then announce the medals, special prize winners, qualifications to the iGEM World Championships and the Asia Regional Jamboree winner in the afternoon. After that, the 2013 iGEM Asia Jamboree will officially end.
Medals
This year we are designating achievements for documentation of your project and contributions to the synthetic biology community. These achievements are signified by a bronze, silver, or gold medal seal, which each team member can adhere to their participatory certificate. These designations will be based on their performance in the online judging round (online judging occurs in the week directly before the Jamboree). Check out the Judging page for the requirements for each medal level. Team Leaders can pick up their team medals (one for each member on the official roster) on Sunday afternoon after the Award Ceremony in LT 1. It is intended that your medal seal be adhered to your participation certificate (for each team member).
Special Awards
In the Asia Regional Jamboree, there are ten special prizes awarded to honor specific innovative and unique contributions to iGEM.
Best Human Practices Advance (apply via Judging form)

Best BioBrick Measurement Approach (apply via Judging form)

Best Model (apply via Judging form)

Best New BioBrick Part, Natural

Best New BioBrick Device, Engineered

Best Software Tool

Best New Standard

Best Wiki

Best Poster

Best Presentation

See the Judging page for the requirements.
Family and Friends
Family and friends are welcome to register for all iGEM Jamboree events. If non-iGEM team members (e.g. family, friends and guests) want to attend the Opening Ceremony, Presentation Sessions, Poster Sessions, Social Event on Saturday and the Award Ceremony, they have to officially register and get a badge. Entrance to the Award Ceremony is not guaranteed, and is dependent on the capacity of the ceremony site.
Luggage
If you need to check out of your hotel on Sunday morning, you are advised to contact the Information Desk. There is only limited space to store your luggage. Please do not leave any valuables, passports and tickets with us. These are your full responsibility. We do not take any responsibility for any lost or damaged items. It is absolutely critical that your luggage be picked up as soon as the Closing Ceremony has ended.
Internet, Phone and Computer
Wireless internet service is available throughout the Campus. A login password will be written in the handbook and announced during the Opening Ceremony. Please check with the Registration Counter on site for login information. Local calls from public coin phones cost HK$1 per five minutes and stored-value phone cards (available at most of the convenient stores) allow you to make IDD calls on public phones. For mobile phone users, the GSM, PCS, CDMA and TDMA networks are available here, you may buy a SIM card at convenient stores or phone shops in Hong Kong.
Emergency Information
If there is an emergency (medical emergency, fire, police, etc.) please contact CUHK campus emergency numbers:
From a campus phone: ext. 7999

From a cell phone, pay phone, or off-campus: 999